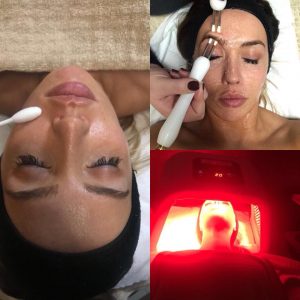 Flawless Facial
Our signature facial is designed to leave you feeling #FLAWLESS
In 3 steps we cover Face, Eyes and what lies beneath the surface
Step 1
PEEL
The First step is a glycolic and lactic acid blend peel, the peel sloughs off dead skin cells and encourages cell rejuvenation, Leaving your skin with a healthy glow! Our wonder peel works on improving the appearance of fine lines, tightening pores and evens out skin tone. It also helps with breakouts and scarring; your skin is left feeling plump and hydrated.
Step 2
A-Lift Eyes
Next, we use Our A-lift machine, The A-lift treatment gets rid of puffiness and improves skin texture and muscle tone, this microcurrent technology recharges skin cells and improves collagen production leaving your eye area brighter and tighter!
Step 3
LED Light therapy
Lastly using clinically proven wavelengths of UV free LED light therapy, We target what's underneath the skins surface. Each LED treatment covers a multitude of skin concerns.
Yellow Light covers fine lines and wrinkles, Green is for pigmentation, Blue light kills bacteria and is great for acne and breakouts and Red is good for inflammation. We make every LED treatment specifically for your skin concerns.
Treatment is €120
(Special Offer €99 for the Month of April)
Call 01-8464060 or book online  HERE